I learned very early in my intellectual journey that the best thinking and strategizing emerges through collaborations with diverse communities of people with similar commitments and vision of justice. I have worked to build these radical intellectual neighborhoods in the service of social justice.
Dr. Chandra Talpade Mohanty
Loubna Messaoudi is the CEO Founder of BIWOC* Rising. She is a former airline pilot, holds a degree in media science and philosophy and also further training in sound and video design. Her work in the past few years has focused on the crossroads of discriminatory structures of women* of colour and the connected social participation in Germany. Prior to founding BIWOC* Rising she was working at different non-profit organisations, e.g. the German Federation of Migrant Women's Organisations (DaMigra) and several refugee services.
Huyen is a Vietnamese writer, womxn's rights activist and marathoner. As a professional in the sports industry in New York, she helped build District Vision and her clients include: Maurten and Outdoor Voices. She started Gold to Green, an online publication at the intersections of running and the arts in 2011. Huyen has co-founded WocForward in Brooklyn (a monthly fitness club for and by womxn of color) and Wayv Run Kollektiv in Berlin to elevate BIPOC/LGBTQI* runners. When Huyen is not running or writing, she's pursuing a master's degree in media science and empowering BIPOC communities, e.g. with the platform ichbinkeinvirus.org and BIWOC* Rising.
Daniela is a psychology student, activist and avid learner. She is combining her experiences as a fundraiser for Greenpeace with her background in communication science to help acquiring financial aid for marginalised groups. She is a mediator, decision maker and networker with a mission to not only empower,
but to build structures between various communities.
Leading by example, Daniela is focusing on mutal support and international solidarity work. Which also means educating and dismantling discriminatory mechanisms along her way.
Daniela joined the Sponsoring/Marketing department in June and is the go-to person when needing a contact or network, not only for the BIWOC* Rising Team. 
Emilia Roig is the Founder and Executive Director of the Center for Intersectional Justice (CIJ). She is faculty member of the Social Justice Study Abroad Program of DePaul University of Chicago and has taught graduate and post-graduate courses on Intersectionality Theory, Postcolonial Studies, Critical Race Theory and International and European Law. From 2007 to 2010, she worked extensively on Human Rights issues at the International Labour Organisation (ILO) in Tanzania and Uganda, at the German Agency for International Cooperation (GIZ) in Cambodia, and at Amnesty International in Germany.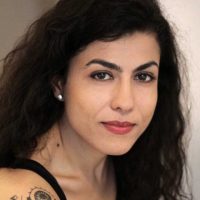 Mihaela Drăgan is an actress and playwright who lives and works in Bucharest. Her performances focus on the connection between theatre, Roma identity and social justice. In 2014, she co-founded Giuvlipen Theatre Company. Giuvlipen's performances have a feminist agenda and bring to life the issues of early marriage, antigypsyism, hate speech, hyper-sexualization, eviction, and heteronormativity in order to promote discussion and critical thinking. She is also part of the "Roma Armee" ensemble at Maxim Gorki Theatre in Berlin.
Saboura Naqshband is currently working at the DeZIM Institute Berlin as a Research Associate. Her research interests are, amongst other things, the intersections of religion, gender and sexuality; Anti-discrimination, anti-Muslim racism, Islamophobia and socio-political and economic participation of Migrants and Refugees in Germany.
She studied Arabic and Political Science at the School of Oriental and African Studies (SOAS) at the University of London, with a year abroad at the University of Alexandria, Egypt. As well as Social and Cultural Anthropology at the Free University of Berlin. In addition, Saboura Naqshband is an empowerment trainer, translator and consultant.
Anis Ari is currently studying at the Freie Universität Berlin, with a major in English Philology and a minor in Political Science. She mainly focuses on or is interested in the fields of journalistic and creative writing. From 2017- 2018 she was part of a volunteer program of the AWO (Arbeiterwohlfart). She was stationed at a refugee camp in Berlin and primarily worked with children or acted as a translator. She joined BIWOC* Rising for a three month internship in January/20.