I learned very early in my intellectual journey that the best thinking and strategizing emerges through collaborations with diverse communities of people with similar commitments and vision of justice. I have worked to build these radical intellectual neighborhoods in the service of social justice.
Dr. Chandra Talpade Mohanty
Loubna Messaoudi (she/her) is the CEO Founder of BIWOC* Rising. She is a former airline pilot, holds a degree in media science and philosophy and also further training in sound and video design. Her career fields cover Cultural Institutions, Film Festivals, Film/TV Productions and NGOs in Germany and New Zealand. 
Her work in the past few years has focused on the crossroads of discriminatory structures of women* of colour and the connected economic and social participation in Germany. In addition, she offers mediation and diversity / inclusion training for companies and educational institutions with an intersectional approach. In 2020 she joined BMW Foundation's Responsible Leadership Program.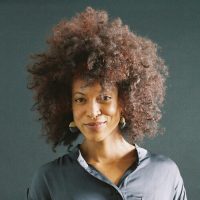 Cérise Carson (she/her/they/them) is the community builder and feel-good manager of BIWOC* Rising, and an advocate for diversity and deep connections. Combining her unique lived experience with specialised training, she relates to a broad range of people from varying backgrounds, ages, experience and education levels. Her own personal and professional story reflect the diversity she recognises and seeks to foster in others with her support group RESET MOM and her storytelling platform WITHIN ELEMENT, highlighting role models for the next generation, allowing an unconscious empowerment to unfold. As a certified nutritionist and life coach she focuses on the balance of mind, body and soul. By incorporating life experiences with tools and methods, Cérise joins expertise and a high level of empathy to foster spaces that feel safe as a facilitator and also as an event manager, PR and HR for BIWOC*Rising.
Surya Paasch (she/her) is BIWOC* Rising's Social Media und PR expert. With an academic background in Business specialized on marketing and law the Berliner started her professional work supporting her mother's dog training/walking business, before venturing out into the music sphere as a marketing and social media intern at Selective Artists. 
After finishing her degree & prior to joining BIWOC* Rising, Surya supported MEP Dr. Herzberger-Fofana in her Brussels office on all matters social media and PR. Being a child of the African Diaspora as well as a member of the LGBTQIA+ community, the topics of empowerment, anti-discrimination, anti-racism and intersectional justice lie close to her heart. 
Photo Credits: Loubna & Cérise – Nella Aguessy (@bigmotha), Surya – Rae (Mee-Jin) Tilly
Emilia Roig is the Founder and Executive Director of the Center for Intersectional Justice (CIJ). She is faculty member of the Social Justice Study Abroad Program of DePaul University of Chicago and has taught graduate and post-graduate courses on Intersectionality Theory, Postcolonial Studies, Critical Race Theory and International and European Law. From 2007 to 2010, she worked extensively on Human Rights issues at the International Labour Organisation (ILO) in Tanzania and Uganda, at the German Agency for International Cooperation (GIZ) in Cambodia, and at Amnesty International in Germany.
Mihaela Drăgan is an actress and playwright who lives and works in Bucharest. Her performances focus on the connection between theatre, Roma identity and social justice. In 2014, she co-founded Giuvlipen Theatre Company. Giuvlipen's performances have a feminist agenda and bring to life the issues of early marriage, antigypsyism, hate speech, hyper-sexualization, eviction, and heteronormativity in order to promote discussion and critical thinking. She is also part of the "Roma Armee" ensemble at Maxim Gorki Theatre in Berlin.
Saboura Naqshband is currently working at the DeZIM Institute Berlin as a Research Associate. Her research interests are, amongst other things, the intersections of religion, gender and sexuality; Anti-discrimination, anti-Muslim racism, Islamophobia and socio-political and economic participation of Migrants and Refugees in Germany.
She studied Arabic and Political Science at the School of Oriental and African Studies (SOAS) at the University of London, with a year abroad at the University of Alexandria, Egypt. As well as Social and Cultural Anthropology at the Free University of Berlin. In addition, Saboura Naqshband is an empowerment trainer, translator and consultant.